Microsoft 365 is a bundle of Office 365 apps and services combined with heightened device security, tighter integration with Windows 10, Data Loss Prevention tools, and more. It puts you in charge of your data in your cloud, and stops it from going where you don't want it to.
Plus, it comes with a license for Windows 10 Enterprise, to help all machines conform to the latest security specifications and keep your team as productive as possible. Microsoft 365 is the ultimate add-on for your business, and is the cornerstone to your security solution.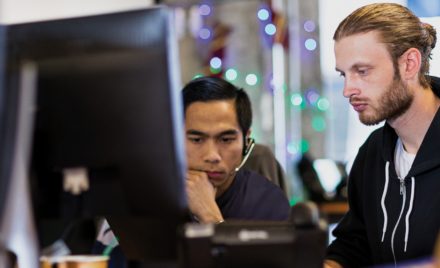 Today's businesses are a mismatch of IT requirements. They often have little coherency, contain silos of data in many different locations, and require separate administrative efforts to maintain security.
Some businesses also have little to no security on their workstations, meaning that employees are often trusted to follow good security guidelines, with no tools or prompts to aid them.
With data stored across many platforms, including Google Drive and Dropbox, many businesses lack the audit trails, discovery tools and data access controls to ensure that private, sensitive information is labelled correctly and controlled.
New Challenges Require New Solutions
With Windows 7 support ending on January 14th, 2020, and Windows 8 support ending a few years afterwards, steps are already being taken to ensure the successors of these robust and successful operating systems.
However, with success comes popularity, which attracts attention against new threats and strains of malicious software (malware).
As Windows 7 became available in October 2009, advancements in new threat technology have made it possible to compromise the operating system. Therefore, a new blended approach of security is required, and this is what Windows 10 and Microsoft 365 is built upon.
Web versions of Office applications
Mobile versions of Office applications
Email, calendaring, file storage
Office applications installed on your PC
Tools to manage & build your business
Help protect against sophisticated threats hidden in email attachments and links, and get cutting-edge defenses against zero-day threats, ransomware, and other advanced malware attempts with Office 365 Advanced Threat Protection
Remotely wipe company data from lost or stolen devices with Selective Wipe from Intune
Restrict the copying or saving of company information to unauthorized apps and locations with App protection for Office mobile apps
Control who has access to company information by applying restrictions like Do not Copy and Do Not Forward with Information Rights Management
Apply policies that provide pre-breach threat resistance in Windows 10 with Windows Defender Exploit Guard
Enforce malware protection to help keep your Windows 10 devices safe from viruses, spyware, and other malicious software with Windows Defender
Enable unlimited cloud archive and long-term preservation policies to ensure you never lose an email with Exchange Online Archiving
Advanced device management
Configure security features and settings on Windows 10 PCs and mobile devices running iOS or Android® with an easy-to-use setup wizard
Use simplified controls to manage policies applied to Windows 10 PCs
Automatically deploy the Office apps to Windows 10 PCs
Configure your PCs to automatically install Office and Windows 10 updates
Apply security policies to protect business data on all your devices, including iOS, Android®, and Windows PCs with Mobile Device Management from Intune
Only need the Office applications? We've got a plan for you.
Office 365
Get the traditional Word, Excel and Outlook applications, with cloud-powered intelligence, security and storage

Always up-to-date desktop and mobile versions of Office applications: Outlook, Word, Excel, PowerPoint, OneNote (plus Access and Publisher for PC only)
Web versions of Word, Excel, and PowerPoint

File storage and sharing with 1 TB of OneDrive storage

One license covers fully-installed Office apps on 5 phones, 5 tablets, and 5 PCs or Macs per user
Learn more about our small business solutions – download the free ebook
Find out how Microsoft 365 Business can make your technology more manageable while improving employee productivity. You'll discover ways you can:
Help reduce risk with always-on security
Achieve more together
Work from anywhere
Get your Microsoft 365 Trial started today.