Nimble CRM
The #1 Rated
Social Sales & Marketing CRM
The must-have intelligent social sales and marketing CRM for SMBs
Nimble is the smart and simple social sales and marketing tool that's perfect for the small business user. It works by building a CRM system around the way you work, creating intelligent ways for you to engage with customers at any point of the sales funnel.
It natively works alongside popular Microsoft software such as Office 365, Outlook, Skype and even Dynamics CRM by syncing your contacts, emails, calendars, and a lead or customer's social history into one single place. Plus, you can access Nimble CRM quickly and easily through your web browser or via the downloadable app, meaning there's no software to download so you can build your CRM as you work.
Going mobile with Nimble CRM
With 130,000 users worldwide, Nimble is one of the most popular social selling applications on the market. Designed for easy usability, its mobile-first design allows you to leverage opportunities in a way no other CRM has been able to do before. With 100+ app integrations including MailChimp, Hootsuite, Shopify and Quickbooks, your employees can instantly work together to deliver targeted outbound sales and marketing campaigns.
The Nimble CRM mobile app gives you true mobility. It presents clear and concise contact company details, allows your employees to sync their calendar to deliver a daily agenda, and follow up on daily notes and tasks. Using the mobile app means your sales representatives have access to everything they would usually see on their desktop directly from their smart device. No fumbling for names, notes or what the client is interested in. Everything is at your fingertips.
Manage Relationships Without Data ­Entry
Nimble automatically updates itself with relevant prospect and customer information from dozens of data sources. See details about where they work, where they went to school, where they're from and how you're connected.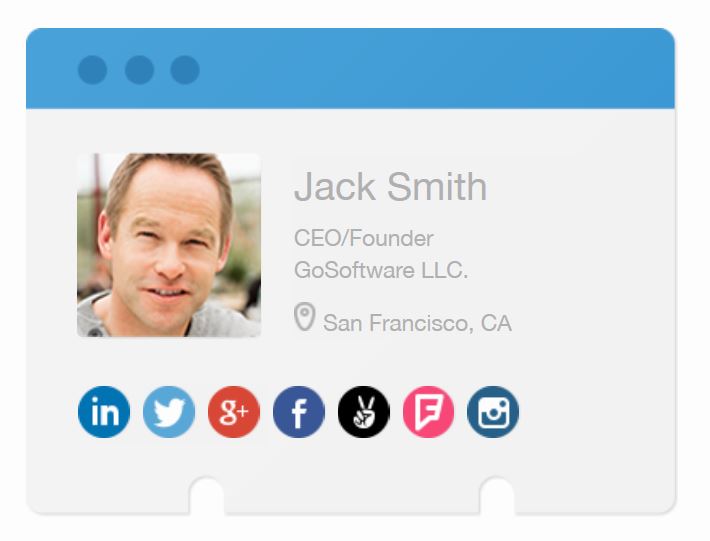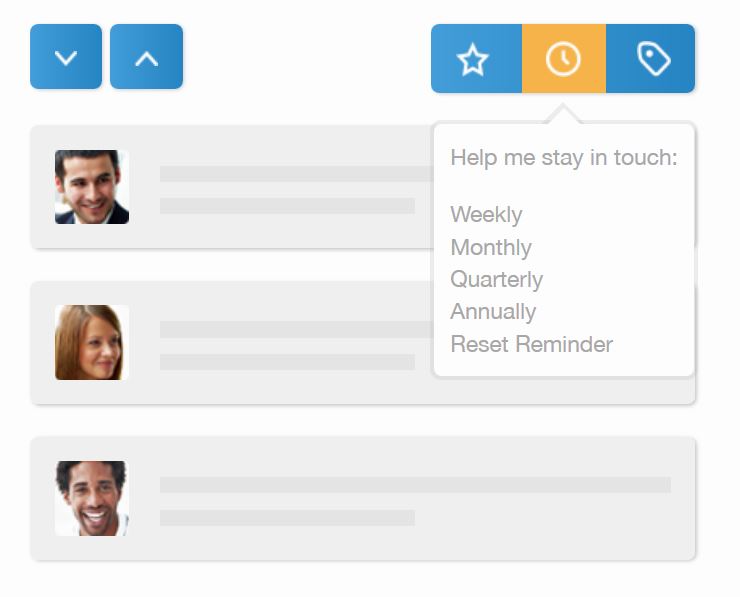 Right Place, Right Time, Right Prospect
Leverage Nimble's powerful Relationship Intelligence to easily identify key contacts and turn connections into conversations and relationships into revenue.
See Team Customer Interactions Effortlessly
Have everything about team customer engagement at your fingertips. Nimble gathers your team's contacts, calendars, email and social interactions with social profile details from everywhere and keeps it up to date.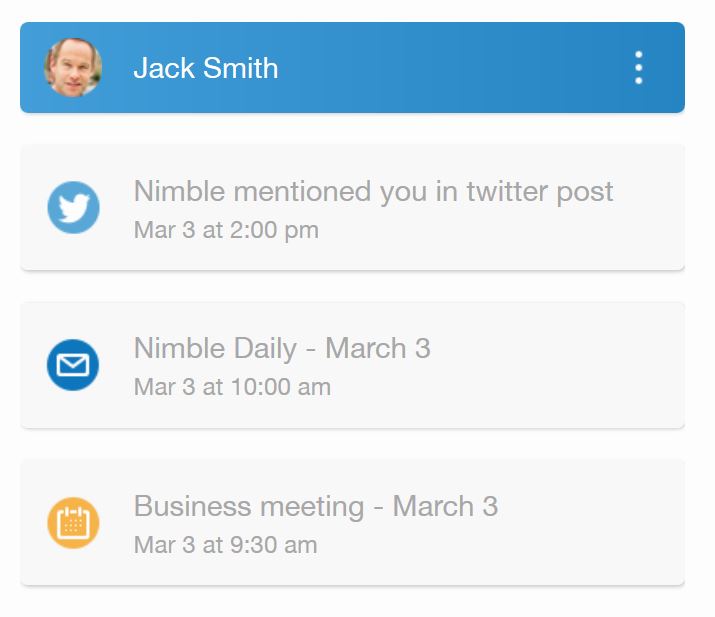 Powerful Integrations
Extend Nimble with Powerful Add-On Products
MailChimp
Export your Nimble leads into MailChimp and start them on automated drip email campaigns.
FreshDesk
View Nimble contact records from within Freshdesk help tickets and enable agents to see full communications history with your customers.
Zapier
Use Zapier to integrate Nimble's complete social contact system with your favourite business applications.
Wufoo
Collect lead information with Wufoo forms and automatically send them into Nimble CRM.
FreshBooks
Synchronise your contacts and more via Zapier to FreshBooks.
Xero
Synchronise your system to Xero (via Zapier).
Hootsuite
Import relevant Hootsuite contacts into Nimble with just a click, and view a snapshot of the contacts' Nimble profiles in Hootsuite.
Why use Nimble CRM?
Nimble is a simple, easy-to-use CRM and Contact Manager that enables customers to modernise their sales and marketing processes.
More powerful than managing customers and prospects with spreadsheets or Outlook
Easier to use than Microsoft Dynamics
Affordable
Loved by users
Easy to use and easy to own
Tight integration across Microsoft products and cloud productivity solutions, including Outlook, Office 365 and more.
Extends the value of your Office 365 subscription; bring in, and send out, powerful rich data about your clients' communications.
Build better relationships with prospects and current customers.
Drive sales with prospects and sell more to existing customers.
Single Source of truth: get organized with tasks, emails, contacts, pipeline, contracts, calendar, proposals, etc… all in one place
Key Benefits
Smart Social Search & Segmentation
Nimble's Smart Segmentation makes it easier to find people and companies that are important for your business.
Smarter Prospecting
Nimble delivers the context and insights you need to Prospect Smarter to grow your business.
Group Email Marketing & Tracking
Nimble's Group Messaging enables you to send personalised group emails with tracking, analytics and reporting for Office 365 mail.
Less Data Entry = More Profit
Spend more time engaging customers instead of logging CRM data. Nimble helps automate your data entry by building your CRM for you.
Seamless Communication
Nimble automatically ties your team's tasks, events, and communications to each sales opportunity to ensure that everyone is on the same page.
With You, Wherever You Go
Work on the move with mobile & browser apps. The Nimble app is the only relationship manager and personal Agenda Tool you need.
Try Nimble FREE for 28 days
Try Nimble for FREE!
28-day trial
Invite your whole team
Try all the features
No payment details needed
Nimble is a game-changer for CRM. It's simple, integrated with social networks, tools like MailChimp, and makes relationships easy.
Mark Cuban
Entrepreneur and Owner of the Dallas Mavericks