Centrally manage signatures for Office 365
Design professional email signatures that are automatically added to all Office 365 emails, all controlled in the Cloud.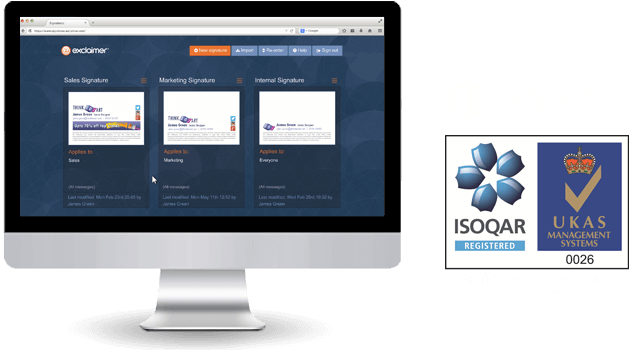 Exclaimer Cloud – Signatures for Office 365 is a multi-award-winning Office 365 signature management service – an Office 365 solution for organizations to centrally manage professional Office 365 signatures for all users sending email from any device.
All Office 365 users get a full, dynamic and professional email signature when sending from every device, including smartphones, tablets and Macs.
Control all Office 365 signatures from a web browser. Use a smart and intuitive UI that is designed for users of all technical abilities.
Create your own signature using our cutting-edge Office 365 signature editor or choose from a variety of different template designs designed by the market leaders in dedicated email signature management solutions.
Add contact details taken from your Office 365 Directory, guaranteeing that every user has the correct information in their email signature. Then, personalize each user's signature with a photo image that you centrally manage.
Allow your users to choose an Office 365 signature in Outlook as they compose a message. They'll also see the signature on messages in their Sent Items folder!
Easily add additional email signature elements like social media icons, promotional banners, legal disclaimers and more. You can even set up email signature marketing campaigns to run over a time period you decide upon.
Email signatures are 'stamped' by Exclaimer's regional Azure servers, passing email messages back to Office 365.
Built with the highest levels of security and control in place, this service has been awarded the ISO 27001:2013 Certification.

Cutting-edge technology built by the world's leading email signature solution provider
We've used over 15 years' experience and gathered feedback from some of our 50+ million users to create the next generation of email signature management solutions, one that is accredited with the ISO 27001:2013 Information Security Management Certification. Using the latest technology, Exclaimer Cloud – Signatures for Office 365 marks the new 'standard' for designing professional Office 365 signatures.
Control your Exclaimer Cloud experience via an easy-to-use web portal. The UI is so intuitive that literally anyone can create, design and manage email signatures within minutes.
Create Office 365 signatures using an advanced drag-and-drop email signature editor. No HTML skills required.
Our UK-based, load-balanced Azure servers add signatures to all emails sent from any device when using a server-side configuration. No email ever leaves the UK or the Microsoft Cloud environment.
Why choose Exclaimer Cloud – Signatures for Office 365?
Easy-to-use Office 365 signature editor tool and library of professional email signature templates.
No specialist IT skills to use.
Self-service web portal.
Easily add marketing banners and social links.
Signatures on emails from all devices, including Android, iPhone, and Apple macOS.
Totally secure: your email never leaves the Microsoft Cloud.
Complete integration with your Office 365 Directory.
Dedicated Exclaimer Support Engineers.
Built by THE email signature experts.
Additional Signature Design Service available.
Start Your Free 14-day Trial
It only takes a few minutes to get started with Exclaimer Cloud. Fill out the form below to get your free 14-day license emailed to you.
Partner